Mirasol Village Redevelopment Project
---

Sacramento Housing and Redevelopment Agency (SHRA) is leading the transformation effort to redevelop the Twin Rivers public housing community and its surrounding River District neighborhood. When complete, this historically isolated area will be fully connected to new transit, employment centers, services, retail and cultural amenities creating a vibrant gateway to downtown Sacramento.
Twin Rivers, (formerly known as Dos Rios), was a 218-unit housing development on 22 acres that was first built in the 1940's on 12th Street just south of Richards Boulevard. The community was one of the first developments in the County of Sacramento's public housing inventory.  The site was cut off from the surrounding area by railroad tracks, levees and rivers, with limited roads, transit or sidewalks to reach nearby neighborhoods. The infrastructure and buildings at Twin Rivers have also reached the end of their useful life.
In 2012, as part of a long-term strategic response to these issues, the Housing Authority of the County of Sacramento (HACOS) through SHRA was awarded a $300,000 Choice Neighborhoods Planning Grant from the U.S. Department of Housing and Urban Development (HUD) to develop a Neighborhood Transformation Plan for the larger River District/Railyards neighborhood. The Transformation Plan set forth a comprehensive blueprint of the neighborhood, housing, and people strategies essential to realize the collective vision for this community.
In 2015, SHRA, in partnership with the City of Sacramento, was awarded a $30 million Choice Neighborhoods Initiatives (CNI) Implementation Grant to carry through on the vision of transformation.
In 2019, the development project was renamed Mirasol Village. The new name and theme were selected through a collaborative process that included Twin Rivers residents, River District business leaders, community members and city council staff. Collectively, it was decided that the new community would have strong references to nature. Mirasol is the Spanish word for sunflower. The streets are named for butterflies and in addition to a new 1.2 acre city park, there will also be a 2/3 acre community garden, fruit tree orchard and garden learning center.
For more information, please contact McCormack Baron Salazar, Inc. at (916) 562-2519.
---
Now Leasing at Mirasol Village
Mirasol Village is now leasing! This beautiful new 1-2-3 bedroom affordable and market rate rental apartment community is located on Richards Boulevard between Dos Rios Street and 12th Street at the gateway to downtown Sacramento. Mirasol Village has a variety of floor plans and great amenities! For leasing information and more details, visit https://mirasolvillage.net. View the informational flyer in six languages.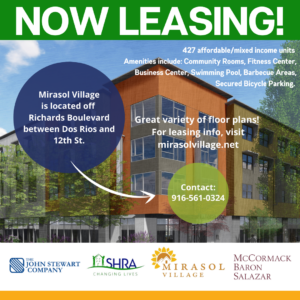 ---
---
The Transformation Plan and CNI grant activities are focused on these four main outcomes:
---
US EPA Brownfields Cleanup Grant
---
Redevelopment Photos and Videos of the Mirasol Village Transformation
---
Redevelopment Project Photos – Aerial Views
Redevelopment Project Time lapse Video
Redevelopment Project Photos – Ground Views
Twin Rivers Community Room Demolition
Mirarol Village Animation Tour
---
---
Date
Details
2024
Final Project Completion
4th quarter 2022
CNI Grant Close-out
1st quarter 2022

First Phase New Units ready for Occupancy at Blocks B and E

1st quarter 2022

Dos Rios Light Rail Station Construction begins

4th quarter 2021

Mirasol Village Park and Community Garden open to the public
3rd quarter 2021
First Phase New Units ready for Occupancy
4th quarter 2020
New Light Rail station construction begins
July 2020
Awarded $14,484,068 from the Multifamily Housing Program towards construction of Block C of the housing development.
June 2020
Awarded $350,000 EPA Brownfields Grant to clean-up the light rail station site.
1st quarter 2020
Building Construction begins
April 2020
Allocated $64.5 million bond and tax credit from CDLAC and TCAC to finance Block A of the housing development.
March 2020
Awarded $1.8 million Green Infrastructure Grant funded by Proposition 68 to construct Mirasol Village Park. https://resources.ca.gov/grants/green-infrastructure
Dec 2019
Allocated $64.5 million bond from CDLAC and TCAC to finance Blocks B and E housing development.
3rd quarter 2019
Infrastructure Installation Work begins
Sept-2019
Development Name Announced: Mirasol Village
Summer 2019
Demolition Complete
June-2019
Awarded $18.8 million in cap and-trade funding from the Affordable Housing and
Sustainable Communities Program to construct housing and install sustainable transportation infrastructure and transit related amenities.
Apr-2019
Site Demolition Begins
Feb-2019
Tenant Relocation Completed
Dec-2018
Awarded $23 million TCC Implementation Grant to construct Light Rail station, add solar PV and community garden
Sep-2018
Light Rail Station Designs Approved
Jul-2018
Building Demolition Begins
Sep-2017
Tenant Relocation Begins
Aug-2017
Mitigated Negative Declaration (CEQA), Relocation/Demo & Project Plans, Adopted by Governing Bodies
Jul-2017
Tentative Map & Site Entitlements (Blocks A/B) Approved
Oct-2016
Acquisition of 12th Street Triangle Site
Apr-2016
Urban Strategies Agreement for Resident Services
Sep-2015
Awarded $30 million CNI Implementation Grant
Jan-2014
Final Neighborhood Transformation Plan to HUD
Oct-2012
MBS Selected as Master Developer & Housing Lead
Jan-2012
$300,000 CNI Planning Grant Award
---